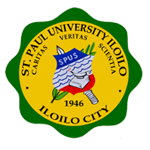 VISION

---
St. Paul University Iloilo is a CATHOLIC University of disciples of Jesus Christ, rooted in His LOVE towards servant-leadership in a globally-diversified society, for GOD and COUNTRY.
MISSION

---
Rooted in Christ, we nurture a community of Paulinians, past and present, in truth, justice, and peace while responding to the needs of the poor.
We foster Gospel and Filipino values in our pursuit of academic excellence, research capability, community service, and productive endeavors.
We develop professional leadership and competence for social transformation and environmental integrity.
We uphold the Vision and Mission of St. Paul University System, seek the guidance of the Virgin Mary, Mother of God, and embrace the spirituality of St. Paul as well as the missionary tradition of the Sisters of St. Paul of Chartres.